A clean and organized desk is essential for productivity and mental clarity. A dirty or cluttered workspace can make it difficult to focus on tasks and can lead to increased stress levels. To maintain a clean desk, it's important to establish tools and best practices for keeping a clean and organized desk and workspace.
Organizing Your Desk
Start by decluttering your desk. Remove any items that are not essential and find a home for them elsewhere. Of course, having personal items or mementos, such as family photos and decorations, can bring a sense of happiness to your space. One method for eliminating unnecessary items is to ask yourself, "do I use this often?" Or, "Does having this item on my desk bring me joy and peace?" From there, removing items that don't serve you and may be cluttering your space will be easier. Once you've decluttered, establish a filing system for papers and documents that need to stay on your desk. Use trays, folders, or binders to keep everything in its place.
Cleaning Your Desk Equipment
Next, clean your computer and keyboard. A clean computer and keyboard can help prevent the spread of germs and bacteria. In fact, A recent study conducted by consumer watchdog Which?, tested 30 office keyboards and found that the average keyboard was home to around 7,500 bacteria, including some strains that can cause food poisoning and other illnesses. Keeping your high-touch computer keyboard sanitized is essential for maintaining a hygienic and clean workspace. To clean your computer monitor or screen, you can simply spray a cleaning agent onto a microfiber cloth and wipe it down.
Tools for Maintaining a Clean and Organized Desk
For optimal sanitization of your keyboard, consider investing in a washable keyboard like the ones offered by Seal Shield. Seal Shield keyboards are waterproof and spill proof, making it easy to clean and disinfect. These keyboards are perfect for high-traffic areas where germs and bacteria can easily spread. Or, for supporting a clean and organized desk in an office or home environment.
Washable Keyboards for Easy Cleaning
Seal Shield cleanable keyboards are available in a variety of sizes and connection types. Keyboard options include portable wireless keyboards, USB wired keyboards, and laptop-like Bluetooth keyboards. Their latest waterproof keyboard, the Cleanwipe Pro, is a USB wired keyboard that offers a low-profile design with three ergonomic tile positions for optimal comfort.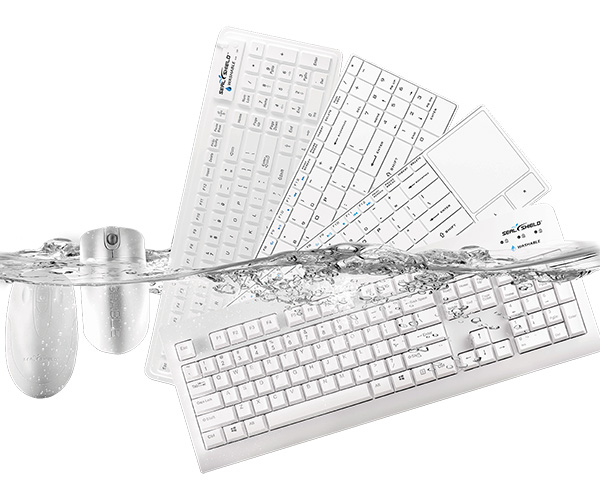 Seal Shield keyboard cleaning capabilities range from washable to fully waterproof and submersible. This is determined by the IP rating. Keyboards with an IP-65 rating are washable. Keyboards with an IP-x8 or IP-68 rating are fully waterproof and can be cleaned by fully submersing in water. All Seal Shield keyboards are compatible with the harshest cleaning sprays and wipes making it simple to sanitize them without causing damage.
Check out the Keyboard Product Families Below:
Waterproof Computer Mice
In addition to a washable keyboard, a waterproof mouse, like Seal Shield USB and wireless computer mice, can also support a cleaner workspace. All Seal Shield mice are fully washable, waterproof, and compatible with industrial-grade cleaners and disinfectants. This enables you to easily clean and disinfect your mouse and workspace without worrying about damaging equipment. Adding a washable mouse to your workspace can help support a clean and organized desk and environment year-round. All Seal Shield cleanable mice are IP-68 making them fully waterproof.
Available Washable Computer Mice Include:
Seal Storm Series: 100% waterproof mouse with a classic two button scroll wheel. Washable mice have a IP-68 rating and are available in both wireless and corded USB connections. Colors include both black and white.
Seal Silk Series: Silicone mice are 100% waterproof with a IP-68 rating. Available with a USB or wireless connection. Colors include black and white.
Seal Surf: Fully waterproof mouse with IP-68 rating. Features a scroll glide two button system and USB connection.
Take the Next Step Towards a Clean and Organized Desk and Workspace
A clean desk and work environment makes for a clearer mind. By incorporating these best practices and investing in a washable keyboard and waterproof mouse from Seal Shield, you can support a clean and organized desk and office space. Seal Shield washable keyboards and mice make cleaning your high-touch equipment easier than ever, without the threat of damage to your investment. All Seal Shield products are designed with you in mind – to make a hygienic environment achievable. A clean workspace can lead to increased productivity, improved mental clarity, and a more enjoyable work experience. Start implementing these tips today for a cleaner and more organized workspace. Shop Now!